A desire is your first step to change, a decision the second and a determination the surety of your success.
NBA ACCREDITED TILL 30-06-2019
(Vide ref. F.No. 26-50/2014/NBA Dt: 25-10-2016)
The Department of Mechanical Engineering at JYOTHI Engineering College was established in the academic year 2004, offering a four-year B.Tech course in Mechanical Engineering. The annual intake is 120 students , an additional 6 Students are admitted under fee waiver Scheme, and 12 students with Diploma admitted to third semester under lateral entry scheme . It is one of the biggest departments of the institute with student strength of about 500. Regular training programs are organized by the Department for better employability and Personality Development. Many of the students bagged top ranks in the Calicut University. Most of the students passed out from the department are working in top ranked international and multinational companies. A number of students from the department pursue their higher studies at IITs and IIMs and also at top ranked foreign universities.
The academic focus of the department is to impart state of the art technical knowledge to the students. Conceptual understanding supported with experimental knowledge make our students competent enough to face technical challenges of the nation. The faculty of Mechanical Engineering are well qualified in academics and industrial expertise also is not at dearth. Most of the faculty members have obtained higher qualifications from premier institutions, both national and international. Faculty members actively pursue research through students and many undertake projects funded through Govt. agencies.

Vision
To provide quality education of international standards in Mechanical Engineering and promote professionalism with ethical values, to work in a team and to face global challenges

Mission
To provide an education that builds a solid foundation in Mechanical Engineering.
To prepare graduates for employment, higher education and enable a lifelong growth in their profession.
To develop good communication, leadership and entrepreneurship skills to enable good knowledge transfer.
To inculcate world class research program in Mechanical Engineering.

Programme Educational Objectives
Graduate Engineers shall have strong practical and theoretical exposure in the field of Mechanical Engineering and will contribute to the society through innovation and enterprise.
Graduate Engineers shall have global outlook and technological leadership, good employments or opt for higher studies/research and have creative thinking to initiate and develop innovative ideas.
Graduate Engineers shall have excellent teamwork, communication and interpersonal skills, having high morals and ethical values.

Programme Outcomes
Ability to apply knowledge of mathematics, science and engineering in the field of Mechanical Engineering.
Ability to design and conduct experiments, analyze and interpret data and results in Mechanical Engineering.
Ability to design Mechanical systems, components, or processes to meet the desired needs within realistic constraints such as health and safety, manufacturability and sustainability with economic, environmental, social, political and ethical considerations.
Ability to work individually as well as in multidisciplinary teams as a member or as a leader to accomplish the common goal.
Ability to identify, analyzes, formulate, and solve engineering problems.
Knowledge of professional and ethical responsibility.
Ability to communicate effectively in any area of their field to the industry, fellow beings and society.
Broad knowledge necessary to understand the impact of engineering solutions on individuals, organizations and society.
Ability to engage in life-long learning to update their knowledge to keep pace with changes caused by dynamic nature of engineering field.
Awareness of the contemporary issues that help to integrate advanced and sustainable solutions in the user environment.
Ability to use the techniques, skills, and modern engineering tools, software and equipment to analyze and model complex engineering solutions.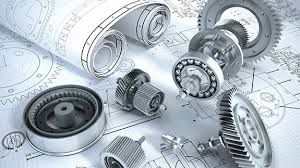 Mechanical engineering is one of the oldest branches of engineering. It is also referred to as the 'mother' branch of engineering. Another appealing feature of mechanical engineering is that the application base of this field of study is extremely broad and diverse. Almost all inventions during the ancient period and a vast majority in the modern era are direct contributions of one or the other application of mechanics.
Traditionally, mechanical engineers have to deal with concepts such as mechanics, thermodynamics, robotics, kinematics, structural analysis, fluid mechanics and many others. These concepts are applied in the process of designing state-of-the-art manufacturing units, different types of motor vehicles, aircraft and aerospace parts and a vast assortment of industrial machinery. Mechanical engineers also contribute in the development of various engines, power plant equipment, heating and cooling systems and other simple and complex machinery. Mechanical engineers not only design new mechanical systems but they are also responsible for testing, maintaining and manufacturing them.
The aforementioned are the conventional roles and responsibilities of mechanical engineers. However, times have changed. Nowadays the scope of mechanical engineering is expanding beyond its traditional boundaries. Mechanical engineers are focusing their attention towards new areas of research such as nanotechnology, development of composite materials, biomedical applications, environmental conservation, etc.
The ever increasing scope of this particular job profile now requires professionals to get into financial and marketing aspects of product development and even into people and resource management. All in all mechanical engineering offers a wide bouquet of job options to students who are looking for a stable and stimulating career.
Start Early
To make mechanical engineering your chosen career path, you must have affinity for the way different machines function. This trait can be observed from early childhood when children try to tinker around with different machinery in their immediate vicinity. Such kids often tend to take apart mechanical toys, clocks, bicycles and then they try to assemble them back again.
These children are so innovative that they may even try to make new things. Here, parents have a special role to play. They must understand that the child possesses an inquisitive mind that is interested in gaining knowledge about machinery and not in breaking or destroying things. Parents must encourage the child's curiosity to know more about different gadgets and machines in and around the house.
During schooling, the quest to play around with machinery increases all the more. This curiosity often culminates with the child opting for science with the PCM subject combination.
Is it the Right Career for Me?
Like other career paths, the entry into this particular branch of engineering also requires you to possess certain basic traits. First and foremost, you must have a penchant for mechanical components and machinery and how these machines work. Then you must be good at physics, chemistry and mathematics. You must also have skills such as an analytical bent of mind, logical reasoning and problem solving.
Further, you must have immense patience, physical strength, ability to work for long hours and an inventive spirit that are essential ingredients for becoming a successful mechanical engineer.
Job Prospect
Since mechanical engineering is the broadest of all engineering fields, the job prospects on offer for skilled mechanical engineers are aplenty and unending. Mechanical engineers are required to design, test, manufacture, install, operate and maintain a wide array of machines and mechanical systems that are used in countless industries. These professionals can find employment both in the government and private sector undertakings.
Major industries that employ mechanical engineers include automobiles, space research, aeronautical, energy and utilities, air conditioning, bio-mechanical industry. Other major employers include giant manufacturing plants, air conditioning and refrigeration industry, turbine manufacturing plants, oil and gas exploration and refining industries and the agricultural sector.
In the government sector, mechanical engineers can provide their knowledge to various government run projects in the role of technical experts and consultants. They can also work in private engineering companies that provide technical consultancy to both government and corporate firms.
These engineers can also hold high managerial positions in government as well as private sector organisations according to their field of expertise and educational qualifications.
Pay Packet
Mechanical engineering offers a wide variety of career opportunities to job aspirants. The average monthly salary of mechanical engineers who are new to this profession is approximately in the range between Rs.20,000 and Rs.40,000. Good campus placements can fetch even better packages for deserving students. Mechanical engineers who hold a post-graduate degree from a reputed academic institute tend to get better offers than diploma and degree holders.
From here on the annual pay packet depends on a number of factors such as the skill set possessed, experience, expertise, the employer, nature of roles and responsibilities, etc. Highly skilled mechanical engineers can easily command pay packets as high as Rs 40-45 lacs per annum.
Demand and Supply
There is great demand for skilled mechanical engineers in different segments of the industry. Their expertise is required in traditional manufacturing industries such as automobiles, aviation, shipping, aerospace, power plants and machinery manufacturing. In recent times, the services of expert mechanical engineers have even been sought in fields such as nanotechnology, biomedical engineering, energy conservation and environmental engineering.
There is also great requirement for mechanical engineering consultants who have management skills along with technical proficiency. The primary role of such professionals is to manage both technology and people and firms that provide engineering consultancy require them.
Various engineering colleges and polytechnics across the country are doing their best to meet the burgeoning demand of skilled mechanical engineering professionals.
Market Watch
The job market for mechanical engineers is perennial. Even the vagaries of the global economic crisis could not knock out the demand for these professionals in the Indian job market. Although some branches of mechanical engineering went out of focus during the meltdown period, the overall situation was much better as compared with other careers. On the brighter side, things are getting back to normal and this evergreen career path is again gaining coin amongst career aspirants as it did during the pre-meltdown years.
In fact, this is a period of resurgence for mechanical engineers. They not only have countless options in the industrial sector but they can also make foray into new realms of technology and even get into management and technical consultancy.
According to a survey, mechanical engineering is amongst the most sought after branches of engineering preferred by students seeking admission to various technical institutes across India in the recent years.
International Focus
Highly qualified professionals from this field, such as post-graduates from various IITs, often seek suitable employment in foreign countries. It is not that only highly qualified mechanical engineers get opportunity to work abroad. If you are employed in a multinational company, you may also get the chance to work on offshore projects
Positives/Negatives
+ives
• There are umpteen job openings and you will not remain unemployed
• Constant involvement in the development of new components, gadgets and machines
• Innovative contribution to the new frontiers of science such as nanotechnology, biomedical engineering and environmental sciences
• Not hit by recession or global economic meltdown
-ives
• Working conditions can be adverse at times
• Deadlines and work pressure can exact a heavy toll on the body and mind
• Physically strenuous and not for the weak
Different Roles, Different Names
Mechanical engineering is considered the 'mother' of all branches of engineering. In this context the roles and responsibilities held by a mechanical engineer are different and depend on their area of specialisation and the industry they are working for.
In broad terms, the job profile of mechanical engineers can be classified into the following functional segments:
Research and Development (R&D): Engineers whose role is to do research and then plan for new machines and their constituent parts.
Design: Professionals whose responsibility is to draft technical drawings, manually or with the aid of computers.
Production: Engineers who supervise the manufacturing of mechanical components and machines.
Analysis and testing: Engineers who analyse and test different types of machines and their parts to ensure that they function flawlessly.
Installation: Professionals who install machines and mechanical parts at the client location.
Maintenance: Engineers whose primary role is to ensure that machinery is working as per specifications.
Top Companies
1. Automobile and auto part manufacturers
2. Aerospace industry
3. Various Government sector undertakings
4. Aviation companies
5. Steel plants
6. Thermal plants and gas turbine manufacturers
7. Air conditioning and refrigeration industry
8. Shipping industry
9. Engineering consultancies
10. Armed forces
Tips for Getting Hired
1. It is advisable to earn a post-graduate degree in this field
2. Computer proficiency is a must these days
3. You must have excellent communication and interpersonal skills
4. A management degree further brightens your career prospects
The Mechanical Department Library holds a varied collection of educational aids in the field of Mechanical Engineering as well as project reports and seminar works carried out by the students. It offers an open access to all most all of its collections for those who are interested in it.
Staff in Charge: Mr. Sheik Afthab
AMES, Association of Mechanical Engineering Students' of JECC, aims to play a pivotal role in the development of students as engineers by various out-of-curriculum and extracurricular activities. AMES aims to inculcate among its members an awareness and appreciation of the various disciplines of not just Mechanical Engineering but also other relevant fields. By way of its activities AMES aims to be a platform for all the students of JECC in general and particularly of the students of ME department. AMES seeks to be an active organization of the ME department at JECC which promotes their career interests.
ABOUT US
AMES, Mechanical Engineering Students Association, one of the earliest of technical students Association at Jyothi Engineering College established in 2005. Mr. Manoj Kumar V.K, Assistant Professor,ME is the first official Faculty advisor of AMES appointed by the Prof K.C John HOD,ME. Mr. Geevas Moncy & Mr. Sreekanth were the first President and Vice-President respectively. Right now, we have various different sub-committees which are consistently monitored by the executive committee. Today, ASME with its highly dedicated executive committee under the able guidance of faculty advisor and HOD is committed to achieve its goals.
GOALS/OBJECTIVES
To focus on the cutting edge technology and present it to the students in an interesting manner by means of lectures/talk, articles and workshops.

To bridge the gap between theoretical and practical/field knowledge.

Promoting the interests of students in various technical areas pertaining to mechanical engineering.

Giving relevant information to students to sustain their interest in their field-specific applications of ME.

Providing students of the department with relevant knowledge of other fields, given the inter-disciplinary nature of ME.

Interacting with other technical societies, within and outside the institute to promote flow of knowledge and interest.

To promote the interaction between academia and industry.

To encourage novel ideas by means of special projects.
---
President : Balakrishnan
Vice President : Ramakrishnan
Secretary : Anup Nair
Joint Secretary : Betson Jose
Treasurer : Jerin Kuriakkose

---

---

---

ASSOCIATION OF MECHANICAL ENGINEERING STUDENTS-ACTIVITIES

Association inaugurated on August 10

th

2013 by Dr.MR Sreedharan Nair, Rtd.principal of GEC Thrissur and followed by a key note address on the topic of "current issues in Technical Education".

Conducted a tutorial class about six sigma on 24-01-2014 by the expert s from Appolo tyres Ltd.Perambra as the part of Technical fest THARANG 2014.

Skill development program on "PCB Design and fabrication "Headed by prof.c Karunakaran on 30

th

August-1

st

September 2013(In association with IEEE student branch).

Skill development program on "Mechanics with MATLAB" on 17-18

th

November.

AMES initiated to formulate

SAEINDIA Collegiate Club Jyothi Engineering College and it recognized on 2015-2016 Academic year.

SAEINDIA Collegiate club inaugurated by

Dr. S. Karunanidhi Scientist 'G' and Director, Control Systems Laboratory, Research Centre Imarat (RCI), DRDO,Hyderabad on 22-01-2016

Skill Development program on Boiler &Pressure vessels Section VIII Div.I: Design and Fabrication of Pressure Vessels by ASME-INDIA at 14/10/2014-16/10/2014

ASME training program on Design and Fabrication of Pressure Vessels was conducted as a part of special industrial skill development for mechanical faculties and students. The training program was conducted during 14

th

-16

th

October. Total forty five members underwent the training.

ASME certification course for three days on "Design and Fabrication of Pressure Vessels" was conducted by Sri P.G.Shah, Authorized ASME Training Faculty, from 14th to 16th October 2014. Mr. C.Karunakaran organized the course for Mechanical Department in association with AMES. Mr. C.Karunakaran, Mr. Manoj Kumar V. K., Mr.Christy V.Vazhappilly, Mr.Suneeth Sukumaran and Mr. Sheik Afthab S., (APME) along with 40 students of S7ME undergoing the training programme.

AMES is initiated to start SAEINDIA, a professinal body for AMES members. SAEINDIA

is India's leading resource for mobility technology. As an individual member driven society of mobility practitioners the ownership of SAEINDIA wrests with its members who are Individuals from the mobility community, which includes Engineers, Executives from Industry, Government Officials, Academics and Students.

SAEINDIA

is an affiliate society of SAE International registered in India as an Indian non-profit engineering and scientific society dedicated to the advancement of mobility industry in India. By becoming a member of SAEINDIA you become a part of a global organization whose benefits are geared specifically to the needs of the mobility engineering community. Your formal education and professional development will be enhanced through your SAEINDIA member benefits. Collegiate clubs provide students with tangible contact with their future profession - engineering - and, in so doing, further the objectives of engineering education.

SAEINDIA Collegiate Club of Jyothi Engineering college was officially formed during the academic year 2015-2016. Prof.Varughese Job and Mr.Christy V.Vazhappilly are the faculty advisor during this period. Many expert talks, FDP, Workshops and ADD-On Courses are conducted under this club.

SAEINDIA Collegiate club was inaugrated by

Dr. S. Karunanidhi Scientist 'G' and Director, Control Systems Laboratory, Research Centre Imarat (RCI), DRDO,Hyderabad on 22-01-2016.

AMES in association with SAEINDIA Collegiate club organized Expert Talk on Mechatronic Systems by

Dr. S. Karunanidhi Scientist 'G' and Director, Control Systems Laboratory, Research Centre Imarat (RCI), DRDO,Hyderabad on 22-01-2016.

AMES in association with SAEINDIA Collegiate club and IE(I) organized Expert Talk on Vidya Science of happiness by

Dr. S. Karunanidhi Scientist 'G' and Director, Control Systems Laboratory, Research Centre Imarat (RCI), DRDO,Hyderabad on 26-02-2016.

AMES in association with SAEINDIA Collegiate club organized

Add on course on Sheet Metal Design Using SOLIDWORKS

(30 hrs training)

by Mr.Lippin Pauly, Assistant Professor/ME, Mr.ChristyV.Vazhappilly, Assistant Professor/ME

from 11-03-2016.

AMES in association with SAEINDIA Collegiate club organized Expert Talk on

Application of FEM in Biomedical Engineering

by Mr. C Karunakaran, Lead Instructor, MAHA Industrial Skill Development Centre, Vellore, Tamil Nadu.

on 11-03-2016.

AMES in association with SAEINDIA publishes technical magazines which includes the project works of under gradutes of mechanical engineering department every year in two volumes starting from 2015.





Mechanical students in INTERNATIONAL WORKSHOP ON STRESS ASSISTED ENVIRONMENTAL DAMAGE ON STRUCTURAL MATERIALS" at IIT Madras.

Students of Jyothi Engineering college, attended an " INTERNATIONAL WORKSHOP ON STRESS ASSISTED ENVIRONMENTAL DAMAGE ON STRUCTURAL MATERIALS" at IIT MADRAS from 27 february 2 march 2015.

ANUP NAIR, S6 ME

A

JAIK JIMMY, S6 ME A

AMITH IGNITIUS, S6 ME A

KRISHNA PRASAD T S, S 4 ME B

JINO JOSHY, S4 ME A

---